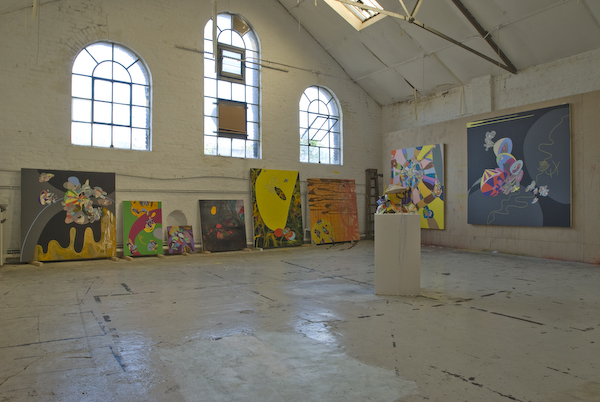 NEWS
October 2015
Heritage House, Belgrade
Solo Exhibition
Sans Arret
Paintings
August 2015
Benetton Foundation, Turin, Italy
New Permanent Collection
Imago Mundi project

July 2015
Solo Exhibition
The Bank of America Merrill Lynch, City of London
Paintings 'Squelch' and 'Escape'

January 2013
Artist talk with Mr. Barry Schwabsky in Salon Vert Gallery, London
Huffington Post
Is abstract Art Making a Comeback?
Editorial By Lorenzo Belenguer
http://www.huffingtonpost.co.uk/lorenzo-belenguer/is-abstract-art-making-a-comeback_b_2551895.html
Sarah Creed
London Art Fair
http://www.thedoublenegative.co.uk/2013/01/london-art-fair/

Solo Exhibition
Salon Vert Gallery, London
Switchroom
Paintings

November 2012
New Permanent Collection: The American Embassy, Belgrade
with Marina Abramovic, Andy Warhol, Milutin Dragojlovic, Maja Gecic, Cile Marinkovic, Vesna Pavlovic, Rex Ray, Branislav Nikolic, Patrick Dougherty, Bojan Sarcevic, Jovi Schnell, Ivan Stojakovic, Vessna Perunovich and Ellen Harvey.
October 2012
Selected by Rebecca Wilson, Saatchi Gallery Director, Saatchi project called 12"x12"
www.saatchionline.com
August 2012
Selected by Flora Fairbairn, curator for Saatchi Project called '100 Curators 100 days'
www.saatchionline.com
January 2012
Nikola Savic: Genesis and Revelation, (Cv/Visual Arts Research)
By Nicholas James
December 2011
Scope Miami 2011
Salon Vert London booth C05
With Lucy Liu, Oleg Tistol, Nikola Savic, Antonio Riello, Steve Rosenthal, James Hopkins and Margarita Trushina.

December 2011
Included in book 'ARTISTS-INTERVIEWS Vol.4'
A gathering of two decades of interviews
Cv/Var Publications edited by Nicholas James
Artists include Billy Apple, James Aldridge, Arman, Morag Ballard, Elspeth Barratt, Christiane Baumgartner, Nicola Bealing, Denis Bowen, Stuart Brisley, Anthony Caro, Claudia Carr, Matt Collishaw, Helen Chadwick, Brian Clarke, John Cobb, Lynn Dennison, Jim Dine, Debbie Duffin, John Dugger, Brian Eno, Garry Fabian Miller, Luke Frost, Rose Garrard, Rachel Goodyear, David Griffiths, Leslie Hakim Dowek, Anthea Holmes, Rachel Howard, Ben Johnson, Valerie Jolly Tarka Kings, Sharon Kivland, Phillip King, Ansel Krut, Langlands & Bell, John Latham, Christopher Le Brun, Littlewhitehead, Hew Locke, Jock Mcfadyen, Elizabeth Magill, Maurizio Nannucci, David Nash, Martin Newth, Hughie O'Donoghue, Gloria Ortega, Therese Oulton, Eduardo Paolozzi, Michael Porter, Felicity Powell, Rebecca Price, Peter Randall-Page, Rob Ryan, June Redfern, Nikola Savic, Terry Setch, Louise Sheridan, Yinka Shonibare MBA, John Skelton, Christopher Stevens, Paramjit, Gerard Titus Carmel, Amikam Toren, James Turrel, Geoff Uglow, Lara Viana, Rachel Whiteread, Alison Wilding, Richard Wilson and Jonathan Yeo.
October 2011
Bonhams
Contemporary Two
Auction
Wednesday 19 October 2011, at 1pm
Knightsbridge, London
Nikola Savic
187. Dry Fit 2, 2001, signed, titled and dated 2001 on the reverse
Acrylic on canvas, 112.5x170cm
Provenance: Acquired directly from the artist by the present owner in 2001
October 2011
Included in book 'ARTISTS-INTERVIEWS Vol.3'
Cv/Var Publications edited by Nicholas James
Artists include Billy Apple, Cladia Carr, Mat Collishaw, John Dugger, Rachel Howard, Ben Johnson, Tarka Kings, Sharon Kivland, Martin Newth, Felicity Powell and Geoff Uglow

Solo Show
St James's Church, Piccadilly London
with Zero 10 Gallery London
Solo Show 'Ovations and Flying Compositions'
Gallery Zvono, Belgrade
paintings
September 2011
Gallery Zero 10 London
Group Show
Cadavre Exquis
with Adam Ball, Gordon Cheung, and Piers Secunda

October 2010
Oblik(a)
Group Exhibition
Gallery Zero 10
With Sinta Tantra, Jasmina Cibic and Adam Ball

Jun 2010
Bonhams Auction,
Vision 21
London
Painting Called 'Jack Nicholson'
https://www.bonhams.com/auctions/17951/lot/266/